Scale
Content Understanding
Enrich, analyze, and categorize your content.
Product
Content Understanding Offerings
Content Intelligence

Enrich your content metadata and analyze the content landscape for media platforms. With insights and reporting on industry content diversity, better focus your product's growth efforts and narrow in on trends early.

Trust and Safety

Create a safe user experience with Scale's Sensitive Content identification product. Scale can flag harassment, violence, and other potentially harmful content. The long-tail of ambiguous and potentially sensitive content can be quickly classified to establish a safer platform experience.
Content Intelligence
Content Data Enrichment
Increased stickiness

Combine an improved understanding of your content's distribution with knowledge of emerging trends to quickly find gaps and easily discover growth areas to improve user and creator stickiness.

Better Recommendation Rankings

The highest and lowest quality content can be easy to find, but it's significantly harder to rank the quality of content in the middle. Improve your recommendation models with high quality data for that middle content, in addition to other long-tails of unclassified content.

Rapid Personalization

Granular information allows for rapid personalization despite users with different interest profiles who engage with the same content. Merge information across landscapes to surface the most relevant content.
Sensitive Content
Trust and Safety
Automate Detection

Automate the detection of malicious content with robust AI models that improve as you scale. See an immediate reduction in manual moderation by utilizing AI models with human-level precision.

Detect Sophisticated Behaviors

Detect sophisticated and nuanced cases of malicious behavior with Scale's human-in-the-loop, AI safety engine. Customizable to any policy or guidelines – Scale's AI safety engine adapts to your precise needs.

Monitor and Adapt

Always have a pulse on the health of your platform and the safety of your users. Catch novel malicious behaviors early and automatically before they grow.
Infrastructure
How Scale fits with your infrastructure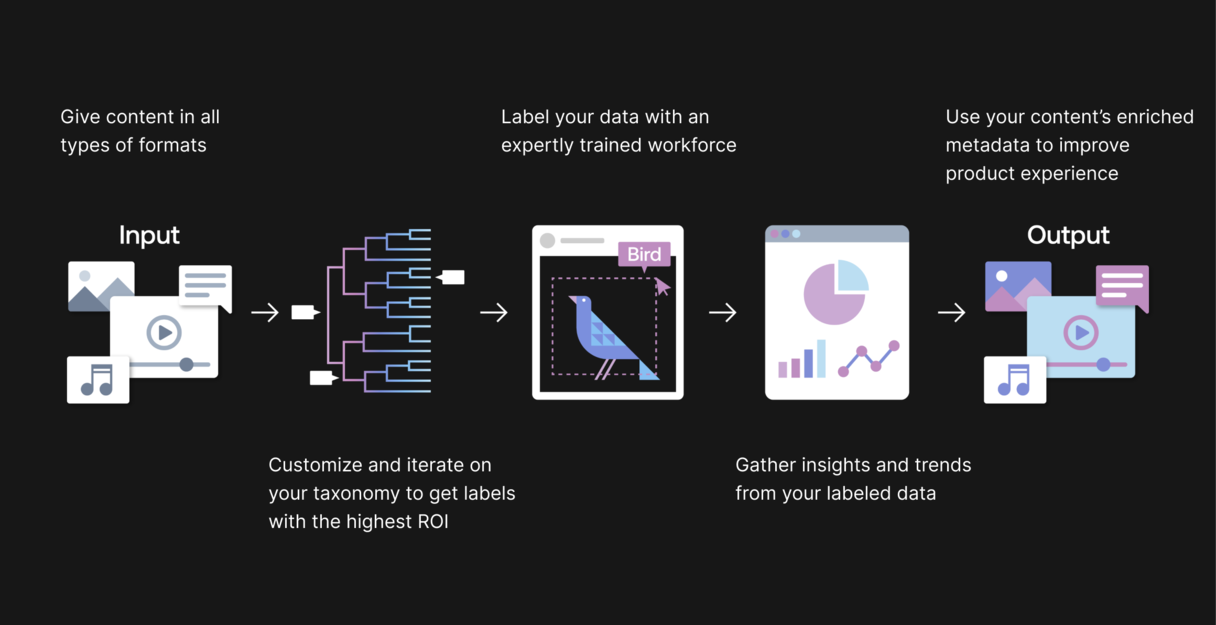 See it in Action
Get to know Content Understanding
Content Understanding for Trend Detection
Content Understanding for Taxonomy Management
Why Scale
Improve Platform Experiences
ML-powered High Quality

Augment state-of-the-art Machine Learning with a global human workforce for industry leading accuracy. Our expertise in data labeling reinforces the high standard for our Operational AI processes even with high volumes and fast ramps. We reduce overhead by fully managing complex ML capabilities such as deduplication, object identification, and fraud detection in addition to a highly trained workforce.

Content Flexibility

We support various media types and languages to accommodate all content needs. Our teams have built increasingly powerful automation to tackle long-tail issues across different content types. As your data needs change, grow, or increase in complexity, we can adjust our systems to continue maintaining a high standard of quality and adaptability.

Integration Expertise

Our experience designing sophisticated pipelines and navigating subjective judgements ensures the highest quality content. We partner with the world's most ambitious AI projects and have a strong track record delivering on complex projects, integrating with various technical stacks, and supporting a diverse range of industry verticals.
TransformX
TransformX 2022: Content Understanding
OpenSea: AI and the Future of NFT Marketplaces with Shiva Rajaraman, Vice President of Product at OpenSea
Evolving Recommendation Systems with ML with Snap and Spotify
Customers
Copymint Prevention for NFT Marketplaces
""We have a lot of different systems that try to detect malicious behavior. In terms of speed of deployment, Scale helped us achieve our goal of detecting copymints in under 30 seconds. The Scale team helped us make a material difference in our copy detection effort.""
Mitch Seymour
Data Engineer, Trust and Safety, OpenSea