Scale
Rapid
The fastest way to production-quality labels, with no data minimums.
Trusted by the world's most ambitious AI teams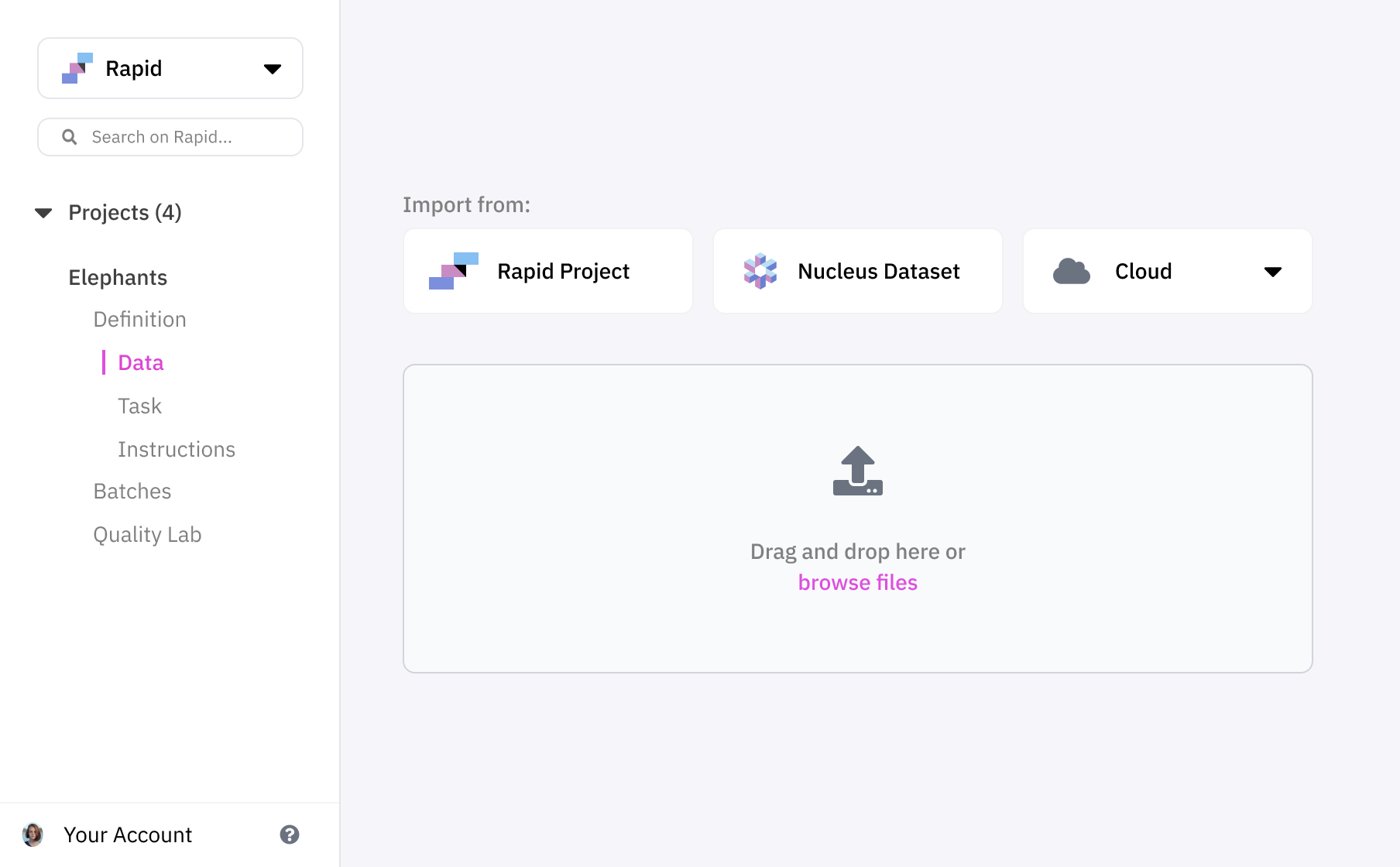 Upload data from CSV, text file, Amazon S3, GCP Cloud Storage, or the Scale API
Quality labels 10x faster

Setup a project in minutes, and get quality labels in hours, not weeks, using Scale's global workforce.

Any use case. Any task.

Rapid supports more annotation and task types than any other platform, including subjective tasks.

Pay as you go

Pay per label with no data minimums and no committed spend. Create an account to access the pricing calculator.

Optimize quality

Get to production quality within days, with instructions feedback, automated edge-case detection, and more.

Get granular insights

Gain granular insight on quality, throughput and tasker performance with access to a robust set of metrics.
Scale Text
Classification
Named Entity Recognition
Transcription
Scale Audio
Classification
Transcription
Scale 3D Sensor Fusion
Cuboid
Scale Video
Bounding Box
Classification
Cuboid
Ellipse (Multi-Geometry)
Lines & Splines
Point
Polygon
Segmentation
Scale Image
Bounding Box
Classification
Cuboid
Ellipse (Multi-Geometry)
Lines & Splines
Point
Polygon
Segmentation
Supported Languages
English

Thai

Greek

Vietnamese

Turkish

Spanish

Russian

Portuguese

Polish

Korean

Japanese

Italian

German

French

Chinese

Arabic
"Scale Rapid has made it easier for us to gather annotations at a good price point. The UI is simple to navigate, and the built in worker evaluation pipeline and batch options saves us time and helps enforce best practices so that we can get high-quality training data."
Cassandra Ung
Software Engineer, Square
"Scale was able to adapt to admittedly challenging technical specification documents, some containing over 100 annotations for a single document. Scale Rapid helped us quickly adjust our project settings to present even clearer task instructions to labelers. The team at Scale was quick to adopt recommendations into their platform based on our feedback, often within the same day."
Isaac Caruso
Data Engineer, Uncountable
"Compared with other document annotation platforms we've tested, Scale provided not only a completely polished and well-performing annotation tool, but also offered a complete turnkey solution which included sourcing and managing the annotation workforce, with the results easily accessible via an API. Working with Scale over the past few months has saved us a lot of hassle and substantially accelerated our startup's progress, providing us with invaluable annotated data. Tony/Scale's customer service has assisted us with our rapid iteration so that we could perfect the annotation process, and they have quickly incorporated some of our suggestions to improve their API and platform even further"
Tom Primozic
CTO, Collectability
"Properly labeling and counting timber isn't the most common deep learning use case, so we turned to Scale Rapid for our somewhat unique image data labeling needs. Scale's team was able to adapt to our requirements and deliver high-quality labeled data on schedule. Scale Rapid removes the pain and time burden of manually labeling data on a tight timeframe!"
Scott Gregg
CEO and Founder, TimberEye
"At X2, it became clear that our test users ask a very wide range of questions. We needed to classify this wide array of questions, and check for the performance of our model in answering them. We turned to Scale Rapid for quick turnaround time and robust results thanks to their helpful user interface and quick adjustments to our labeling instructions to handle edge cases specific to our users' needs."
Chakshu Ahuja
Engineering Lead, X2.ai
"Scale Rapid truly stands out from other data labelling solutions in the market. We used it for text categorization and were impressed by the turnaround time and thoughtful design of the workflow for taxonomy creation, quality lab and built-in metrics for auditing along with the other features such as API access, price estimator, etc. which together make it a great self-serve solution."
Nikhil Raju
Senior ML Engineer, Grata