Use Cases
Augmented and Virtual Reality
What We Do
Collection, Annotation, and Synthetic Data Generation for Augmented and Virtual Reality
Collect
Collect High-Quality Data
Collect large volumes of high-quality real-world data
Well-trained global collector workforce

Diverse data types from egocentric videos to LiDAR full room scans

Automated duplicate detection, sensitive data recognition, and quality audit technology
Label
Annotate Data at Scale
Quickly annotate large volumes of data at production quality
Support for a wide variety of annotation types including 3D cuboids, human keypoints, and dense point cloud segmentation

Industry-leading label quality at high volumes

Optimized with human-in-the-loop and ml-powered labeling tools
Generate
Synthetically Generated Data
Improve your datasets and optimize your model performance with Scale's Synthetic data
Generate unlimited amounts of high-quality, perfectly labeled data

Infinite varieties of diverse and representative synthetic human data

Realistically animated humans with full-body poses, gestures, and activities
How It Works
How We Provide High-Quality Data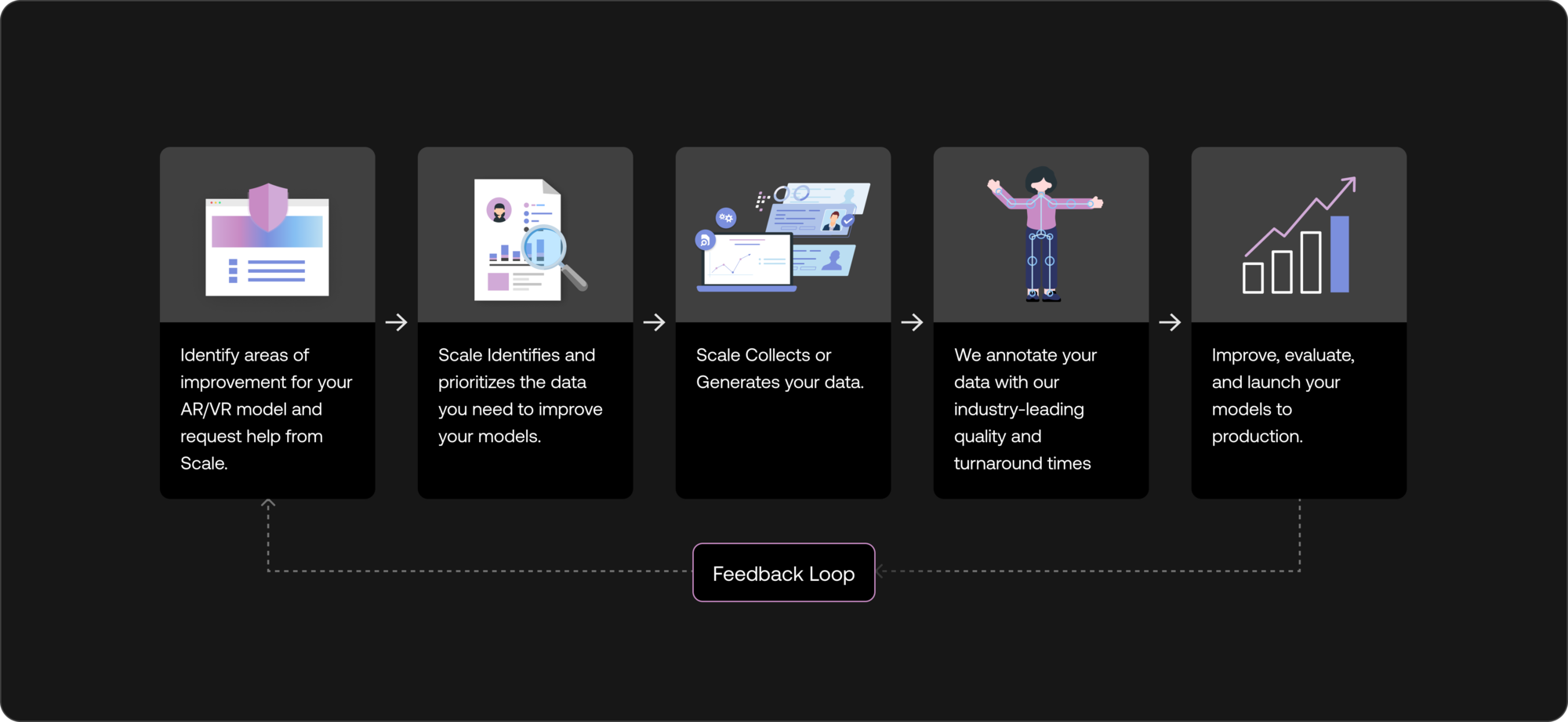 Why Scale
Best-in-class data services to accelerate your capabilities.
Automatic Data Filtering

With automated duplicate and sensitive data detection and removal, you get only the data you need for model performance improvement.

Ensure High-Quality Labels

Automated and human-in-the-loop quality review processes for the highest quality labels.

Human-Centric

Real-world and synthetic data of humans from egocentric viewpoints, interacting with household objects and performing a wide variety of activities.

Manage Bias and Enable Privacy

Advanced tools and best practice methodologies enable privacy and diversity in your real-world and synthetic datasets.
HIGH-QUALITY Data
Get the Data You Need
 for Your AR/VR Applications
Dense Point Cloud Segmentation

Complex Multimodal Annotation

3D Static and Dynamic Cuboids

Keypoints

Multi-lingual Data Collection and Transcription

Face and Eye Tracking
Customers
Trusted by World Class Companies