Kaleido AI asked Scale to help them generate synthetic data to help them continue to improve their model performance on object identification and improve the IoU of their model predictions. Kaleido AI had plateaued at an IoU of 0.657 with real-world data and needed to improve its model continuously.
Scale's ML Engineers started by analyzing Kaleido AI's sample data and model inferences in Nucleus, Scale's data curation platform. Scale quickly identified that the model was performing poorly in segmenting objects in images with complex patterns, the objects were shaded or transparent, or where there were shadows in the backgrounds of the scenes. Scale focused on these edge cases and generated a sample of 2,650 images of synthetic data with varied lighting, textures, and patterns. However, this first pass was not sufficient to meaningfully improve model performance.
The Scale team recognized that they needed more data specifically targeted at problem edge cases to improve model performance substantially. So the team did a deep dive into Nucleus to curate data to further identify these problem edge cases. They also introduced the ability to visualize Scale's synthetic images compared to real images in 2D space. To do this, the Scale team first passed all the images to a RESNET 101 backbone and took the vector embedding of each image at various layers before passing them to t-SNE. Then, the team visualized which synthetic images were furthest in 2-dimensional space from real images and which real images formed a distinct and unaddressed cluster of images. Using this method, the Scale team identified the real images furthest from synthetic images and prioritized these edge cases.
This analysis revealed that Scale needed to include more textured/patterned objects and a wider variety of object types in the synthetic data distribution.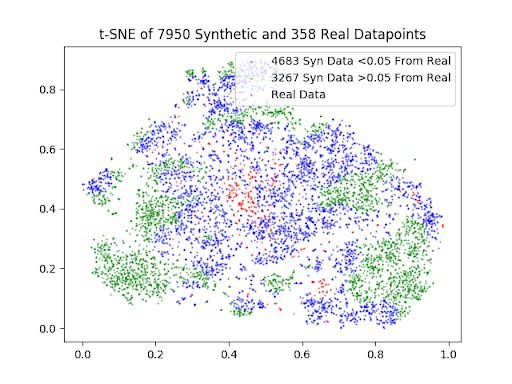 Upon further investigation, the clump of red images towards the center of the plot were patterned objects. 
This analysis identified additional patterns and other edge cases on which to focus. We also determined that white objects on white backgrounds with dirt or speckled backgrounds or where there are two layers of background (i.e., rooms with doors) were causing poor model performance.
The Scale team now had a clear understanding of what was needed to improve model performance and set about generating a larger dataset with data targeted at addressing these edge cases. In total, Scale generated 14,583 synthetic images covering a total of 12 categories covering patterns, various objects, backgrounds, and textures. With this targeted synthetic data, Kaleido AI achieved an IoU of 0.794.