The Scale AI team hosted its first ever Hackathon last month. The hackathon was designed to:
Encourage innovative thinking to solve some of Scale's biggest challenges
Prototype and potentially launch impactful projects that make Scale better in practice
Facilitate long-term cross-functional relationships
Give all Scaliens a creative break from their daily work.
Scaliens across functions and teams leapt to the challenge, proposing 63 ideas and ultimately working on 10 separate projects comprising of 37 team members. Projects ranged from new product proposals to better internal search, from refactoring tech debt to streamlining instructions for Taskers.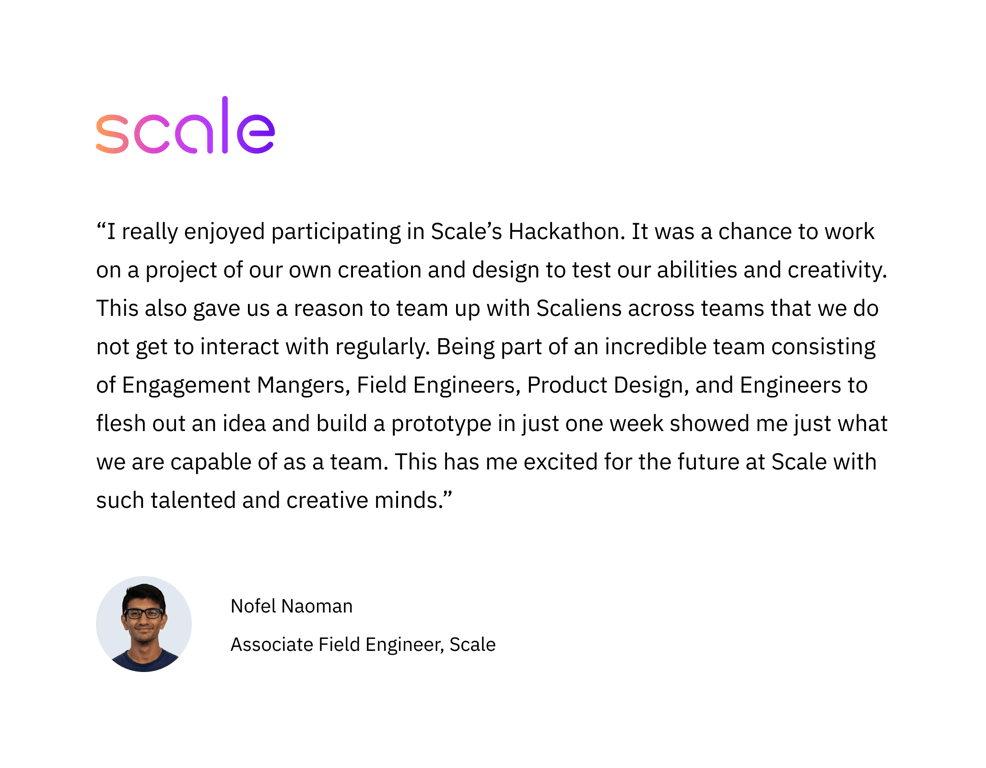 Project Highlights:
The following are just some of the projects Scaliens tackled during the Hackathon. As a disclaimer, most of these projects are not live, nor do they indicate immediate plans to build these ideas.
Super Instructions
Winner: Best In Show
Team Members: Shaun VanWeelden, Taisia Karaseva, Jeff Lin, Galen Bertozzi, Rashid Lasker, Ivan Roumec, Nofel Naoman, Lawder Paul
Problem Statement: Annotation instructions are critical for the development of high-quality training data. Today's annotation instructions are mostly made on static, non-interactive documents, not connected to the API payloads creating the task and requiring 3rd party solutions to host.
Solution: The Super Instructions team tackled this problem in 3 ways:
Extending the Task Schema used in our APIs to accommodate labeling instructions.
Creating an in-app instruction builder that simultaneously creates the instructions as well as the API payloads that would need to be leveraged in task creation.
Bringing a world-class interactive design to the in-app educational experience for those doing the annotating, including features like search, navigation, and zoomable images.
The goal of this prototype was to re-imagine the experience both our customers and Taskers have when creating and completing work on Scale's platform. We firmly believe better instruction design and more consistency leads to higher-quality annotations for all involved.
Corp Search
Winner: Audience Choice
Team Members: Lawder Paul and James Lennon
Problem Statement: "Corp" is Scale AI's admin portal for employees to gather information on on-going projects and to influence the quality and outcome of data annotation. The Scale AI team has launched countless tools and introduced new functionalities to Corp to improve our operations but the Corp portal itself was not very user friendly. There are now so many tools in Corp that it can be hard to find the exact tool, and for new Scaliens it's not always clear what different tools do.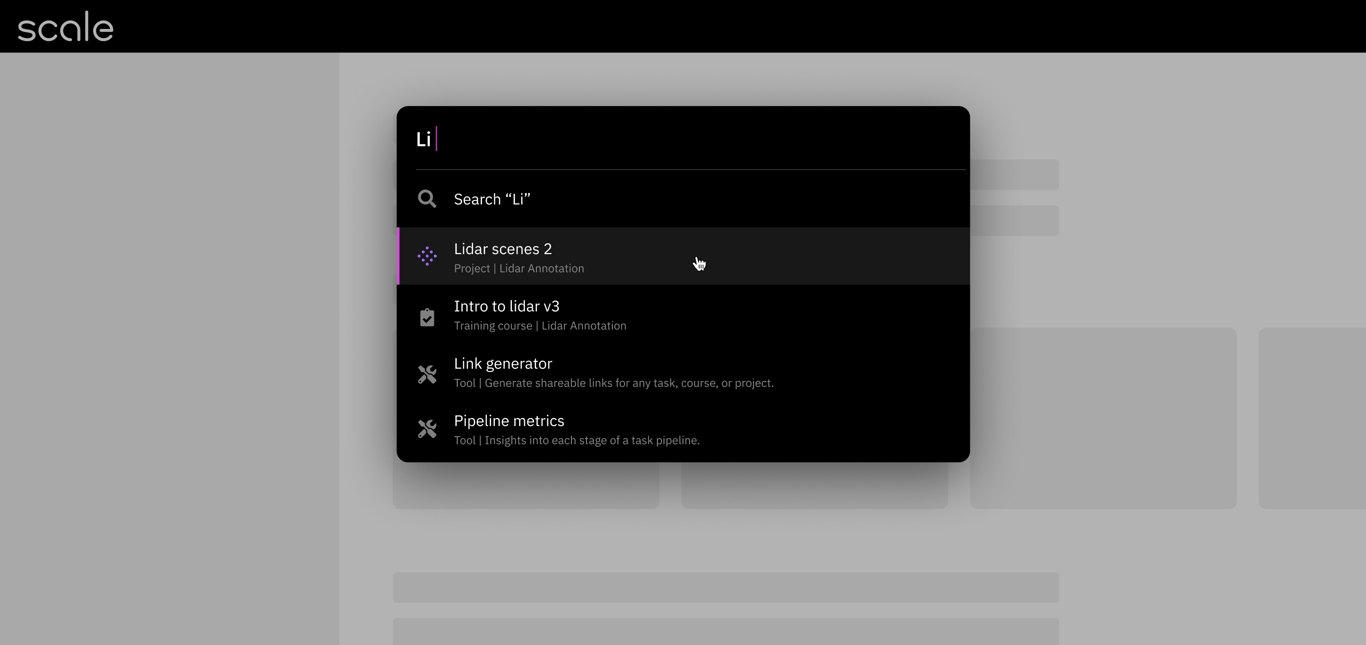 Solution: Corp Search allows employees to quickly search across all areas and tools within Corp, packaged in an elegant "command-line" interface that can be surfaced anywhere in Corp.
Corp Migration
Winner: Most Immediately Impactful
Team Members: Diego Muracciole, Federico Marcos, Martin Cabral
Problem Statement: As stated in the Corp Search project, Corp had become a complex and sophisticated tool used by many to provide the best service to our customers. Many of the Tasker and customer-facing features and tools were tied together or interlinked with Corp, making additional engineering work more challenging.
Solution: The team spent the week separating these Tasker and customer-facing features were separated from Corp. The team also developed a framework to encourage internal modularity and code reuse to enable faster deployment in the future as Scale continues to grow. The team also ensured backwards compatibility with previous code to ensure daily operations could continue. This project has already enabled several refactors and performance improvements.
The Great Refactor
Team Members: Andrew Liu, Nick Induni, Steven Hao
Problem Statement: Like many fast-growing startups, Scale AI has accumulated some level of tech debt in order to quickly deliver new features and products to our customers.
Solution: The Great Refactor team looked to tackle this issue by investing a week of their time to improve code quality to optimize for long-term maintainability and development velocity.
Tasker Scoresheets
Team Members: Akshat Bubna, Rilka Li, Alan Yu
Problem Statement: Although Taskers (our global data annotation workforce) regularly receive feedback on the quality of their submissions, it is difficult to provide granular feedback with specific areas of strength and weakness.
Solution: The team developed Scoresheets that could be accessed on the Tasker dashboard. The dashboard allows Taskers to track their individual performance on specific skills over time and provides learning resources to improve at weak skills.
Scale Grep
Team Members: Jonathan Fung
Problem Statement: Instead of searching through command-line grep, IDE search, or Github search, which can be slow and unwieldy, engineers need quick, interactive, on-the-fly code search that can generate quickly sharable links.
Solution: We deployed two open-source projects, Livegrep and Webgrep internally, and added automated index-generation so that the code in our git repositories gets indexed every 2 hours. Now, engineers can search through our large codebase in milliseconds and click code fragments to generate sharable links to exact lines of code.
Facilitating Interactions to Foster Cross-Functional Relationships
In addition to working on impactful projects, another goal of the Hackathon was to facilitate cross-functional relationships. Fostering these connections when everyone is remote can be particularly tricky. How do you recruit teammates to work on your project when you can't organically run into folks in hallways? How do you whiteboard ideas, or learn a new skill from teammates when you can't physically sit together?
Pitch Session
To help idea originators find teammates, we held a company-wide pitch session a week before the Hackathon. Scaliens then spent the following week signing up for the pitched projects and forming cross-functional teams.
Events and Activities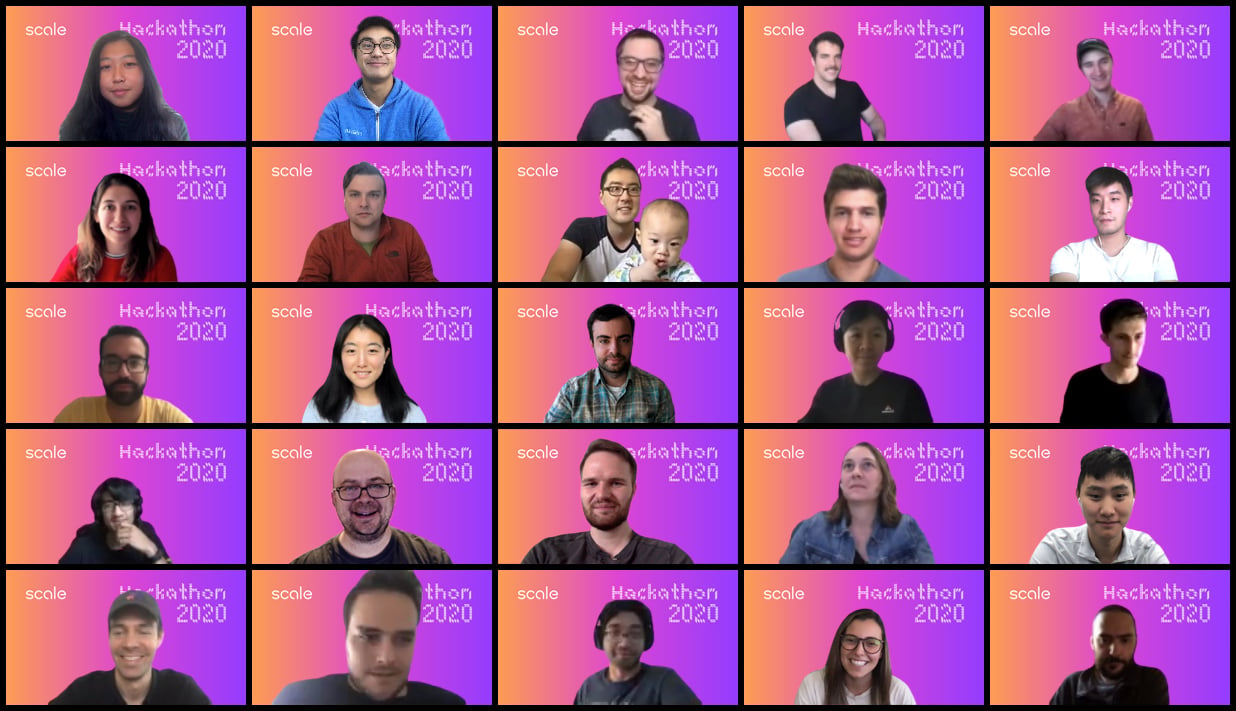 To help Scaliens develop new skills, we organized workshops throughout the week of the Hackathon. Workshops included:
A session on Storybook for planning engineering deployments
A session on Figma to understand Scale's design resources and to enable better designing and prototyping
A session on Tableau to enhance data visualization.
We also organized daily social activities and special events throughout the week to facilitate social bonding. These activities included a Daily "Brain Game" and a virtual Game Night.
To help everyone get into the spirit of the Hackathon (whether they were on a team or not), we fully branded the hackathon experience. Our Brand Director, Ty Wilkins, created custom Zoom backgrounds, and branded swag, while Product Designer, Chun Jiang, designed our Paranormal Hacktivity mascot.
Presentations and Hackathon Wrap-up
Once projects were wrapped up, the teams presented their projects to the entire company. A team of internal judges gave out awards for "Best-In-Show" and "Most Immediately Impactful" and the entire company voted on a "Audience Choice" award. After the final presentations, Scaliens gathered in a virtual stretch session to unwind and relax.
We hope this blog inspires you to host your own virtual hackathon or spark ideas for a hackathon that is in the works. If you're interested in tackling new challenges and joining a collaborative and exciting team, take a look at all of our open positions!