Company
Scale Rapid: Fast Experimentation with Production-Quality Labels
by Scale Team on July 19th, 2021
For many ML teams, acquiring high quality labeled data is a barrier to iterating quickly on different models. That's why we're thrilled to offer early access to Scale Rapid, a new product that enables machine learning engineers and researchers to receive high-quality labels and instruction feedback in as little as one hour.
With Scale Rapid, you can:
Create your own labeling projects
Upload your data labeling via UI or API
Design and submit your own labeling instructions
Direct quality improvements with new or updated evaluation tasks
Scale was founded to solve the challenge of scaling data labeling pipelines to production-level volumes. Today, as more diverse and agile teams experiment with ML, those teams are all too often blocked by the inability to update and receive prompt feedback on labeling instructions for rapid iteration. Scale Rapid solves for this by providing:
Production-quality labels at lower volumes
More insight and control over labelling workflow through quality and throughput metrics, including edge case detection
No minimum commitments, annual contracts, or platform fees. You can pay as you go, per label, not hourly rates—with a credit card, not a contract
Our product architects have worked closely with some of the most seasoned deep learning and ML teams in the world. We quickly realized that getting quality labeled data, and getting it fast, is often the obstacle to getting good results from experimental models. In order to stay agile, research teams and startups alike need access to the best training data possible in the shortest amount of time. Scale Rapid solves these problems by using Scale's core operations infrastructure and enabling an iterative feedback loop with the customer.
Currently in Early Access, Scale Rapid gives customers the fastest way to production-quality labels with no data minimums, while offering full control.
What customers are saying about Rapid: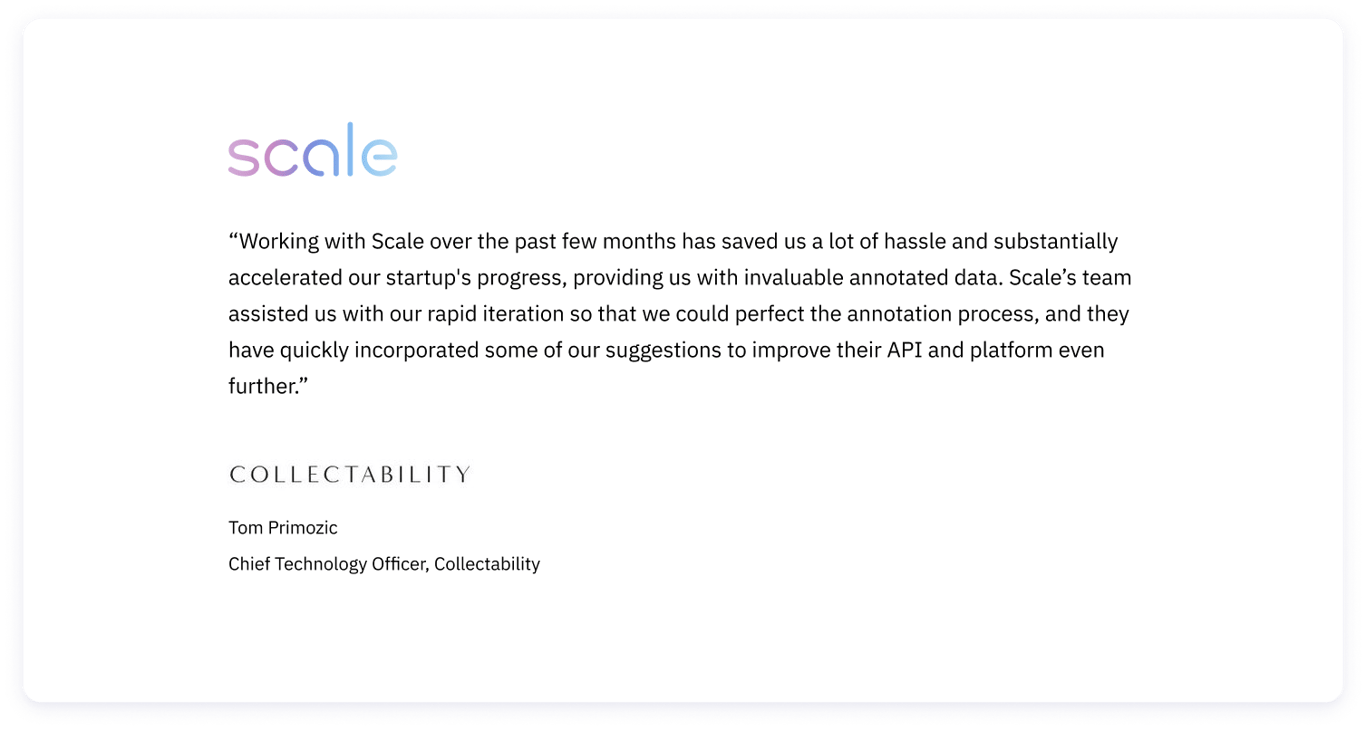 Other research and engineering groups at Adobe, Bossanova, Grata, Square, and X2 AI are also labeling rightsized batches of data with Scale Rapid.
If you are looking for a cost-effective data annotation solution for rapid experimentation, join the waitlist or contact us today for more information on our early access program.
To learn more about Scale Rapid, watch our Tech Talk that was held on August 18th, we walked through a live demo and took questions.
Other recent product advances:
Scale Rapid isn't our only recent product development. To expand on the image training needs for autonomous vehicle customers, we launched Scale Mapping to address both computer vision and path planning needs. Also, Scale Nucleus helps you curate your dataset and select edge cases, false positives, and under-represented classes for labeling rather than simply randomly sampling your dataset for labeling.
Join the waitlist or contact us today for more information on our early access program.